Ratchet tie down straps
Ratchet tie down straps plays a role in fixed function when it is used in freight, remove, shipment or storage, it has such performances as fastening, safety, lightness, convenienceand easiness to operate, and protection of bodies from damage.
It can be fit for all manners of environment as different hooks.
Material :Polyester

Standard: EN12195-2:2008
Safety Factor: 2:1
Length : as required
Colour : any colour
Temperatrue Range for Storage and Usage of PES RTD:-40℃~100℃
(使用与维护)
1.Only can the ratchet tie down strap without breakage be used.
2.Should not use it by overload.
3.Should not use it by knotting.
4.Should use protective sleeve to keep the strap from sharp edge and cutting or abrasion.
5.The strap should not be used as lifting sling.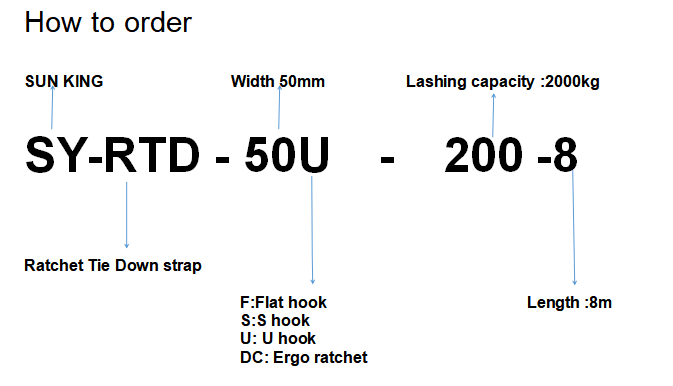 TYPE: SY-RTD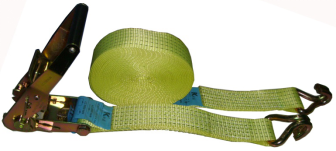 | | | | | |
| --- | --- | --- | --- | --- |
| Art. No | Breaking Strength(kg) | Belt Width(mm) | Lashing Capacity(daN) | Webbing Breaking(daN) |
| SY-RTD25-040 | 800 | 25 | 400 | 1200 |
| SY-RTD25-050 | 1000 | 25 | 500 | 1500 |
| SY-RTD25-075 | 1500 | 25 | 750 | 2250 |
| SY-RTD35-100 | 2000 | 35 | 1000 | 3000 |
| SY-RTD35-150 | 3000 | 35 | 1500 | 4500 |
| SY-RTD50-150 | 3000 | 50 | 1500 | 4500 |
| SY-RTD50-200 | 4000 | 50 | 2000 | 6000 |
| SY-RTD50-250 | 5000 | 50 | 2500 | 7500 |
| SY-RTD75-500 | 10000 | 75 | 5000 | 15000 |
| SY-RTD100-500 | 10000 | 100 | 5000 | 15000 |
TYPE:02SY-RTD

| | | | | |
| --- | --- | --- | --- | --- |
| Art. No | Breaking Strength(kg) | Belt Width(mm) | Lashing Capacity(daN) | Webbing Breaking(daN) |
| 02SY-RTD25-040 | 1600 | 25 | 800 | 1200 |
| 02SY-RTD25-050 | 2000 | 25 | 1000 | 1500 |
| 02SY-RTD25-075 | 3000 | 25 | 1500 | 2250 |
| 02SY-RTD35-100 | 4000 | 35 | 2000 | 3000 |
| 02SY-RTD35-150 | 6000 | 35 | 3000 | 4500 |
| 02SY-RTD50-150 | 6000 | 50 | 3000 | 4500 |
| 02SY-RTD50-200 | 8000 | 50 | 4000 | 6000 |
| 02SY-RTD50-250 | 10000 | 50 | 5000 | 7500 |
| 02SY-RTD75-500 | 20000 | 75 | 10000 | 15000 |
| 02SY-RTD100-500 | 20000 | 100 | 10000 | 15000 |