Flat woven webbing sling is woven with weaving machine for one time, and processed in the different stitching methods.

Material:Polyester, Polyamide, Polypropylenct
Safety Factor:5:1,6:1,7:1,8:1
Standard:EN1492-1:2000
Length:1-100m
Color:Color code
Ply:Single, double, three and four-ply
The Characteristice of Product
1.Steady lifting, safe and convenient to use.
2.Do not damage the lifted body.
3.High capacity, brightly colored.
4.Improve work efficiency and reduce cost.
5.High abrasion resistance, corrsion resistance, mould resistance.
6.Extensive use: widely used in port and dock, chemical industry, iron and steel,
mechanism, installment and other industrial fields.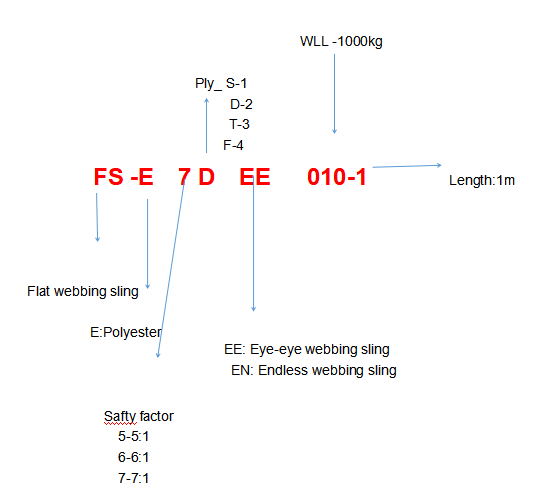 Art.No

Working load limit(kg)

Approx width(mm)

Minimun length
(m)

Color

Eye length
(mm)

Working load limitted in Tones

5:1

6:1

7:1

Straight lift

Choked lift

Basket Hitch

FS-E7DEE010

1000

25

25

30

1.1

Violet

300

1000kg

800kg

2000kg

FS-E7DEE020

2000

50

50

60

1.2

Green

350

2000kg

1600kg

4000kg

FS-E7DEE030

3000

75

75

90

1.3

Yellow

400

3000kg

2400kg

6000kg

FS-E7DEE040

4000

100

100

120

1.4

Grey

450

4000kg

3200kg

8000kg

FS-E7DEE050

5000

125

125

150

2.0

Red

500

5000kg

4000kg

10000kg

FS-E7DEE060

6000

150

150

180

2.0

Brown

550

6000kg

4800kg

12000kg

FS-E7DEE080

8000

200

200

240

2.0

Blue

650

8000kg

6400kg

16000kg

FS-E7DEE100

10000

250

250

300

3.0

Orange

750

10000kg

8000kg

20000kg

FS-E7DEE120

12000

300

300

——

3.0

Orange

900

12000kg

9600kg

24000kg